Local Fresh Dog Food is Now Available in Select Woodman's
yellow-dog-woodmans-launch-release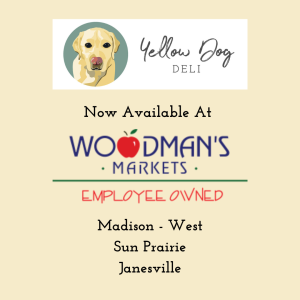 LOCAL DOG FOOD PRODUCER YELLOW DOG DELI ANNOUNCES LAUNCH IN THREE REGIONAL WOODMAN'S MARKETS
In addition to Evansville storefront and Dane County & Hilldale Farmers Markets, the expansion offers a convenient new pick up option for customers seeking high quality fresh food for canine companions
Evansville, WI – September 25, 2023 – Yellow Dog Deli, the Evansville-based producer of freshly made dog food with human grade ingredients, today announced their signature offerings are now available for purchase at three Woodman's Markets in the area: Madison West, Sun Prairie and Janesville. The expansion marks the first time Yellow Dog Deli's small-batch, home-made dog food recipes will be available at a retail grocery store, adding a convenient new purchase point for existing customers and introducing the "farmer's market quality" dog food brand to a wider regional audience.
A true labor of love, Yellow Dog Deli grew from owner Carolyn Robb-McDonald's long history with beloved furry friends – a good number of whom happened to be yellow or golden in color. She started making home-cooked meals for her current dog, Deuce, several years ago and thus began the transition to making Yellow Dog Deli a full-time business.
"I love giving our customers a convenient option to feed their canine companions fresh food made with high quality, human grade ingredients," says Robb-McDonald, who founded Yellow Dog Deli in 2020 with her husband, Brian. "There are studies that show dogs who are fed home-cooked meals can live on average one and a half to two years longer than dogs who eat kibble their entire lives, so to know there's a simple way I can give my dog the best chance at the long, healthy life – and help others do the same – is incredibly rewarding."
Aside from the new Woodman's offerings, Yellow Dog Deli will continue to operate out of their Evansville kitchen and storefront as well as selling at Famers Markets (Yellow Dog Deli alternates time on Saturdays between Hilldale and Capitol Square markets). They also currently deliver directly to the homes of dozens of customers in Dane County on a one-time or subscription basis.
Yellow Dog Deli's current flavor offerings include Beef & Potato in both adult and puppy varieties as well as Chicken & Rice, Fish & Barley and Turkey & Pasta for adult dogs. A sampler pack is also available. All food is made with high-quality meats and produce that has been certified, inspected, and approved for human consumption by the USDA with no feed grade ingredients, no fillers and no preservatives. Recipes have been formulated by a veterinarian nutritionist to be balanced and complete according to the Association of American Feed Control Officials' nutritional profile standards.
"We're really grateful that a previous business colleague knew of our business and believed the Woodman's customer base would appreciate the availability of our product," concluded Robb-McDonald. "We're excited to launch this relationship and to bring home-made, high-quality fresh dog food to more dog lovers in Dane County."
– ### –